Polymers Solutions: #1
1.* (1997 F 1) This problem involves stereochemistry, catalysis, and polymer chemistry. Consider the stereoisomers of two coordination compounds shown below. These are "precatalysts"; when each complex is activated by converting one chloride into a methyl group and the other chloride ion is replaced by a weakly coordinating anion, the resulting complex will catalyze the polymerization of propene. The two different catalysts produce very different types of polypropylene. One catalyst produces high-melting polypropylene that can be made into strong fibers which are used to manufacture carpets. The other catalyst produces a sticky, low melting polypropylene which has no important application. Explain the different behavior of the two catalysts using stereochemical arguments and illustrate the structures of the two types (high-melting and low-melting) of polypropylene. Indicate which catalyst leads to which polymer and why they behave differently. Note: for the precatalyst on the right the CH2CH2 bridge connects the rings behind the Zr atom and is difficult to visualize.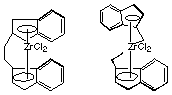 The precatalyst on the right is meso and so is achiral. It produces atactic polypropylene with random chiral centers. This is a disorganized, low melting polymer. That on the left is a chiral precatalyst. It produces isotactic polypropylene, which is high-melting due to its close packing ability. The crux of the matter is that chirality in the polymer chain derives from chirality in the catalyst used to make it...